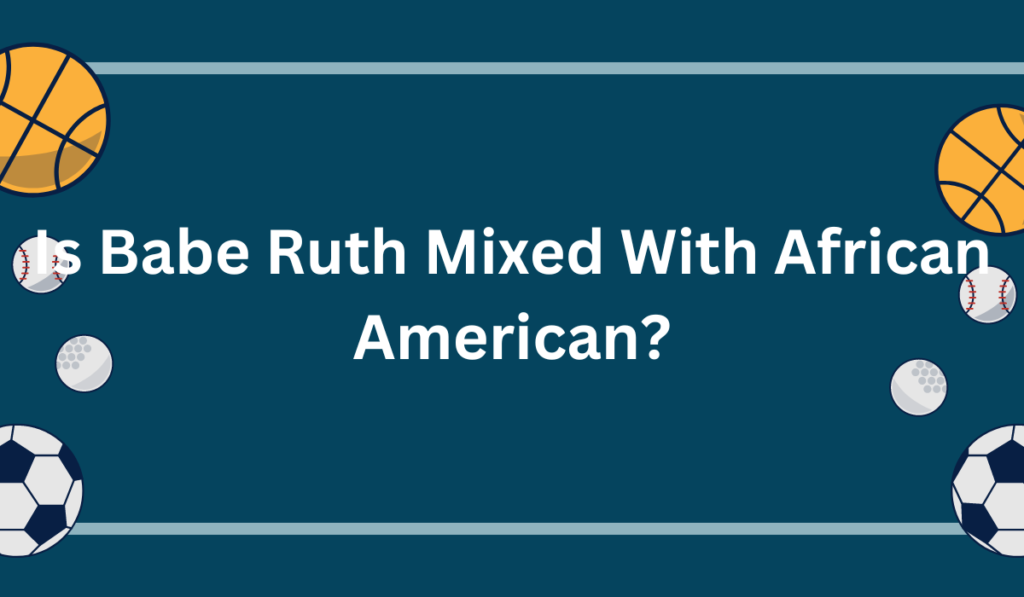 George Herman "Babe" Ruth gained fame for his exceptional skills in baseball, earning nicknames such as "The Sultan of Swat" and "The Bambino" among baseball fans.
However, discussions about his racial identity were more popular than his skills at times. Babe Ruth began his baseball career at a time when it was rare to find black players on any team, which led to speculation about his race due to his physical features, such as his nose and lips.
Additionally, his romantic relationships with black women further fueled these conversations about his racial identity.
Is babe Ruth mixed with African American?
There is no concrete evidence that Babe Ruth was of African American ancestry or mixed race. While there have been rumors and speculation regarding his ancestry, his birth certificate lists his parents as George Herman Ruth Sr. and Katherine Schamberger, both of whom were of German ancestry.
Some of the rumors may have stemmed from Babe Ruth's appearance, as he had dark features such as a prominent nose and curly hair, as well as his relationships with women of color. However, there is no definitive proof that he had African American or mixed race ancestry. Are you curious? Keep reading!!
Where Did Babe Ruth's Professional Career Start?
In 1914, Babe Ruth started his professional baseball career by signing a contract with Jack Dunn, who owned a minor league in Baltimore. The exact details of how and why he was selected are unclear, as there are many different stories, but his lack of exposure, knowledge, and etiquette earned him the nickname "Dunnie's babe" from veteran players.
However, in his first appearance as a professional player, he hit a long home run to right field, which garnered attention from people who compared it to Jim Thorpe's shot. Babe Ruth was a multi-talented player, excelling both at the plate and pitching, and he quickly became a star pitcher.
However, Dunn had to sell some of his top players to major league teams to raise money for his club. The Boston Red Sox eventually purchased Babe Ruth from Dunn's club on the 4th of July after several teams had shown interest, including the New York Giants and the Cincinnati Reds.
How Was Babe Ruth's Time With The Boston Red Sox?
Babe Ruth's time with the Boston Red Sox was a huge success. He played with the team from 1914 to 1919, during which he helped lead the team to three World Series championships in 1915, 1916, and 1918.
Ruth's talent as a left-handed pitcher was a big part of the team's success. In 1915, he set a record for the longest scoreless inning streak in World Series history, pitching 13 and 2/3 innings without allowing a run.
However, Ruth's hitting skills were also becoming increasingly impressive during his time with the Red Sox. In 1919, he hit a then-record 29 home runs in a single season. His batting skills made him an asset to the team, and he became known as one of the best hitters in the game.
Despite his success with the Red Sox, Ruth was eventually traded to the New York Yankees in 1920, a move that would have a significant impact on baseball history.
The Source Of The Speculations Surrounding Babe Ruth's Race?
During Babe Ruth's career as a baseball player, racial tensions were high in America, and finding a black player in any league at that time was extremely rare.
Despite facing negative attention due to some of his physical features, Ruth publicly supported the integration of black people in the major leagues, befriending successful black people and the few black athletes in sports. He also dated black women, which caused controversy and rumors at the time.
Opposing team players often used racial slurs like the N-word against him, but there were no repercussions for this behavior. In a notable incident, Ty Cobb refused to share a cabin with Ruth because he had "never shared space with a n****" and refused to start with Ruth.
In an interview with the New York Times, Ruth's adopted daughter, Julia Ruth Stevens, stated that after his retirement, he was not considered for the position of manager for the major league due to fears that he would push for the inclusion of black players.
While Ruth did coach a team for a short time, there is speculation that his coaching stint was cut short due to racial issues, although this has not been confirmed.
Did Racism Prevent Babe Ruth From Progressing From Player To Manager?
For many years, it was believed that Ruth's brash and irresponsible behavior made him unsuitable for a managerial position. However, his skill set was undeniable after many successful seasons in the major leagues.
Despite this, many people continued to hold onto this narrative, including the league, who refused to make him a manager. Ruth's daughter, Julia Ruth Stevens, disagreed with this narrative and sought to change it.
According to Julia, Ruth would have recruited people of color into the league, and the powers that be couldn't handle that. They denied him a position he was qualified for because of their racism.
In summary, if Julia's account of the situation is accurate, then Babe Ruth was denied an opportunity he deserved due to racism.
Babe Ruth's Death
Babe Ruth passed away on August 16, 1948, at the age of 53. He had been diagnosed with throat cancer and had been in and out of the hospital for treatment. Despite his illness, he continued to make public appearances and attended Yankee Stadium's 25th-anniversary celebration of the opening of "The House That Ruth Built" on June 13, 1948.
After his death, Ruth's body lay in state at Yankee Stadium, where tens of thousands of fans paid their respects. His funeral was held at St. Patrick's Cathedral in New York City, and he was buried at the Gate of Heaven Cemetery in Hawthorne, New York.
Babe Ruth's legacy in baseball and American culture remains strong to this day, with many considering him to be the greatest baseball player of all time.
Conclusion
Babe Ruth's legacy as a baseball legend was overshadowed by the discrimination, he faced due to his physical features that white people considered undesirable at that time. While some may argue that his success was due to white privilege, he still faced significant challenges due to racism.
In this post, we have provided an overview of Babe Ruth's life, the racial issues he encountered, and the ongoing debate over whether he had African American ancestry.